Data Updates for INFOMAR Programme - October 2023
INFOMAR (Integrated Mapping for the Sustainable Development of Ireland's Marine Resources) is Ireland's national seabed survey program jointly managed by the Geological Survey Ireland (GSI) and the Marine Institute (MI). The program aims to map the country's territorial waters, providing critical seabed, geological, habitat, and ecological information to multiple stakeholders.
All data produced by INFOMAR is free for use based on the Government of Ireland Open Data Licence policy, under the conditions of Creative Commons Attribution 4.0 International license.

A key indicator of INFOMAR's success is its ability to share data using latest technologies through its official website, which offers an extensive range of products, maps, charts, WMS services, web viewers, and a comprehensive data portal. All these data are at the core of the sustainable development of the Irish and International offshore sector and support numerous current and future activities including the development of the emerging Offshore Renewable Energy (ORE) sector, cable and telecommunication industry, sustainable fisheries and aquaculture development including designation of marine protected areas, and much more. 
The INFOMAR website serves as a centralized platform for sharing valuable marine data with various stakeholders, including researchers, policymakers, industries, and the public. The website follows open data principles and provides easy access to a vast repository of information gathered during the seabed survey activities. Users can access data in various formats, promoting transparency, collaboration, and informed decision-making.
This Press release aims to provide an update on recent development and improvements on the INFOMAR data, services and product sharing front. Key updates include

1.    New and improved bathymetric and backscatter grids, WMS and Rest services.
2.    New functionalities for NFOMAR ArcGis Online (AGOL) data portal.
3.    INFOMAR map viewers
4.    New product launch: INFOMAR blue scale map series. 
5.    Expansion of shipwreck database and 3d models. 
6.    New data accessibility for the fishing industry procedure.
1. -    New and improved bathymetric and backscatter grids, WMS and Rest services.

Online data sharing and publishing of vast geospatial datasets such as the INFOMAR bathymetry and backscatter layers brings several challenges. Over the past year, changes have happened in the background in order to improve and future proof these processes. This includes migration to an Esri geodatabase structure, the redesign of database hierarchies, address historical issues and improve some hardware infrastructure. The end result is that new bathymetric and backscatter geodatabases are now improved, more stable and compliant with 3-star open data standards. Newly improved, high-resolution raster datasets have now been published by the Marine Institute and Geological Survey Ireland as WMS/REST services at multiple resolutions and through INFOMAR's dynamic bathymetry viewer. Bathymetric surfaces are now available at 5m, 10m & 25m over the Irish Continental Shelf ( <200m water depth), 25m for 75% of the offshore region (>200m water depth) and 100m for the remaining offshore areas. Backscatter surfaces are available at 5m & 10m over the Irish Continental Shelf (<200m water depth) and 40m for offshore areas (>200m water depth). Table 1 provides an overview of data types, resolution and availability. Links and instructions on how to connect to the many Rest and WMS services are provided here. 
Table 1: Overview of merged bathymetric and backscatter surface availability & format
    5m    10m    25m    40m    100m    Format
Examples below show the south of the Rockall Bank in water depth ranging from 400 to 1500m. The new 25m resolution grid provides a sharp image of the various seabed structures including Iceberg scours, deep sea coral mounds, sediment waves, slope failure and other geological features. Users can take advantage of the online tools within the viewer to measure, extract coordinates, analyse the seabed and calculate geotechnical variables such as slope & aspect.  
Similar example over the shelf area showcase the complex geology of the Aran Island seabed now available on the various viewers at 10m resolution, with higher 5m resolution data also available through the INFOMAR data request portal.

 
2. -    New functionalities for NFOMAR ArcGIS Online (AGOL) data portal
The INFOMAR Marine Data Download Portal was redesigned in 2021 and it is now based on the latest ESRI AGOL technology. This offers new functionalities, futureproof expansions and allows easy access to data download services where users can browse and download subsets of the INFOMAR data based on geography and data-type or download merged bathy and backscatter grids for the entire Irish EEZ. A short video explaining how to use the portal is available here. 

This portal is subdivided into three main sections. The "download survey data" tab enables users to obtain key deliverables for individual survey legs (bathymetry and backscatter grids, imagery, sub bottom data and survey reports) by clicking on the map and selecting what's needed.  Recent updates saw the replacement of old grid formats with a more user friendly WGS84 Floating Point GeoTIFF32 for bathymetry and backscatter grids which has enable the portal to gain 3 star open data standard.

The "download entire area" tab is a recent addition and now enables user to download merged bathymetry and backscatter grids at various resolutions. For example, the entire INFOMAR bathymetric dataset over the continental shelf can be downloaded as single merged grid at 10 m spatial resolution with one click. That is 20 years of survey data now available in one single file! Future plans are in place to expand the offering to higher resolution grids. 

Finally, the "download vector datasets" provide users with access to key INFOMAR vector databases such as shipwreck, sediment samples and sediment classification layers. These are available in easy to user GIS shapefile format. 

3. -    INFOMAR map viewers
The Maps section of the website enable users to interact and download  most of the key products generated by INFOMAR. 
Interactive Maps. 

These maps allow user to explore the data in real time without the need to download data to local computers. They take advantage of the latest WebGIS and data tiling and streaming technologies. The most comprehensive viewer available here is the Data and Sub-Bottom Profiles Viewer which is based on Esri technology. Most of the key INFOMAR layers are available within this portal, including the recently developed Sub-bottom profiler SEG-Y layer which enables user to preview all the INFOMAR shallow geophysical data without the need to download and process the datasets. Instructions on how to use this layer are included here and an explanatory video is available here. 

Additional Viewers enable users to dynamically explore the offshore seabed with many customisation options as showcased in this video. A separate seabed substrate viewer can be used to explore the sediment and acoustic reflectivity of the offshore seabed. This viewer also showcase all the sediment samples collected by the INFOMAR programme over the years, which are then used to infer sediment distribution and seabed habitats (see figure below). 

 
Two additional viewers available within the Interactive maps also allow user to see where the INFOMAR vessels are mapping at any given time and finally the data acquired by the INFOMAR program across the  Atlantic Ocean to support the AORA and Seabed2030 initiatives. 

Downloadable Maps
These Web Map Viewers have been specifically designed to enable users to explore and the download key products developed by INFOMAR. Very self-explanatory and easy to use, they can be used to download all the official INFOMAR chart series at various scales, explore in 3d the over 500 shipwrecks mapped by the programme and download associated reports, quickly query key survey statistics and download the survey reports completed after each hydrographic project and finally download an array of ancillary maps and products such as the "Real Map" and "3D Map" series, Grey Scale shaded relief maps and easy to use Google Earth KMZ imagery. 

Story Maps
As part of the INFOMAR outreach effort, numerous story maps have been created over time. These web based maps have been thoughtfully created with specific context in mind and enriched with supporting information in order to becomes a stand-alone resource. Thanks to their captivating look and interactive functionalities, they integrate maps, legends, text, photos, and video and provides functionality, such as swipe, pop-ups, and time sliders, that helps users explore specific content.

4.    New product launch: INFOMAR blue scale map series. 
Within INFOMAR we share a passion for seabed mapping and creation of outstanding products that can be used and admired by many. The aim of this new series of "Blue Scale" coastal maps is to visualise Ireland's coastal seabed using new and up to date INFOMAR bathymetry data. This series of maps pays particular attention to structures that lie beneath the waves, with each map unique in its own right. These new maps have been carefully designed by INFOMAR's dedicated cartography team and will be released on a weekly basis from the 7th August 2023 and shared freely as part of a new Image Gallery here. These high-resolution images are also compatible in all GIS environments, can be fully integrated for personal use and are readily available for printing and framing. An example of these maps and the stunning detail is shown below.

5.    Expansion of shipwreck database and 3D models. 
Shipwrecks are arguably one of the most interesting outcomes of the INFOMAR programme. Over the years, over 500 shipwrecks have been mapped in Irish water and at least half of these are currently of unknown origin. Shipwreck metadata, imagery, reports and 3D models can be accessed via the shipwreck viewer & INFOMAR also hosts over 150 3d models within the sketchfab platform. 

 
Over the past few months the INFOMAR team has reviewed the entire shipwreck database holding and several new and improved images and 3d models are currently being uploaded in our viewer and sketchfab. A more advanced rendering methodology has also been developed, allowing the creation of better shipwreck models and textures as can be seen for the SS Chirripo showed below.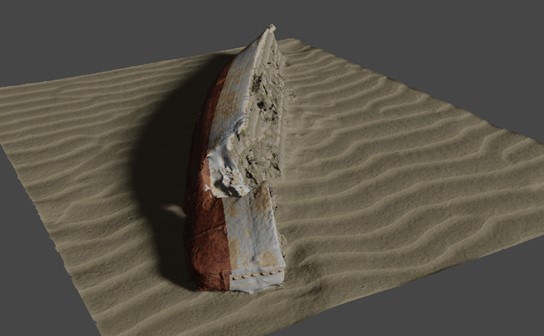 6.    New data accessibility for the fishing industry procedure.
Commercial fishing and other professional operators utilise a number of marine navigation softwares and plotters to plan their activities. Two of the most commonly used systems include Olex and Tide Zero. To facilitate integration of the INFOMAR bathymetry layer within these platforms, a new procedure was recently developed explaining all the steps required to convert and import the data. Procedure can be downloaded from here. 

INFOMAR's commitment to data sharing through its website plays a crucial role in promoting marine research, sustainable development, and evidence-based decision-making in Ireland. By providing an extensive range of products, maps, charts, WMS services, web viewers, and a user-friendly data portal, INFOMAR facilitates access to valuable marine information for various stakeholders. The continuous expansion of data offerings and the adoption of advanced technologies enhance the program's value and contribute to the sustainable management of Ireland's marine resources.

INFOMAR (Integrated Mapping for the Sustainable Development of Ireland's Marine Resource) is a twenty year programme to map the physical, chemical and biological features of Ireland's seabed. INFOMAR is funded by the Department of the Environment, Climate and Communications (DECC), and delivered by joint management partners Geological Survey Ireland and the Marine Institute. The programme has placed Ireland centre-stage as global leaders in marine stewardship, seabed mapping and development of marine resources.
The Marine Institute is the state agency responsible for marine research, technology development and innovation in Ireland. It provides government, public agencies and the maritime industry with a range of scientific, advisory and economic development services that inform policy-making, regulation and the sustainable management and growth of Ireland's marine resources. 
Founded in 1845, Geological Survey Ireland is Ireland's public earth science knowledge center and is a division of the Department of the Environment, Climate and Communications. We are committed to providing free, open and accurate data and maps on Ireland's subsurface to landowners, the public, industry, and all other stakeholders, within Ireland and internationally.  In addition, we act as a project partner in interpreting data and developing models and viewers to allow people to understand underground. We deal with a diverse array of topics including bedrock, groundwater, seabed mapping, natural disasters, and public health risks